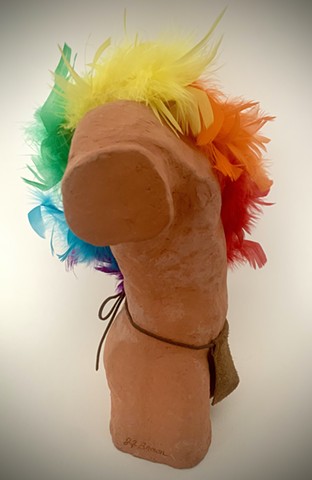 Celebration: Naked Man with Feather Boa and Loin Cloth
High-Fire Terra Cotta Clay, Feathers, and Leather
14" x 11" x 6.5"
2023
$400
This sculpture is on exhibit at The River Arts Gallery in Damariscotta, Maine, November 21st - December 30th. https://riverartsme.org/
I created this sculpture years ago from a live model in a continuing studies class at The School of the Art Institute of Chicago, and decided to repurpose it. While creating it, I attended a protest downtown against the US invasion of Iraq. At the protest I picked up a NO WAR button, and once the sculpture was finished I adorned it with a sash and the button.
Now with LGBTQ+ rights threatened and under attack, I wanted this sculpture to represent a celebration of that community, with the rainbow feather boa, and leather loin cloth/modified codpiece. The River Arts Gallery recent exhibition with the theme "Celebration," sparked my idea for this redesign. At first glance this piece could be interpreted as campy and lighthearted, but I don't want it to be disrespectful. I have empathy and deep concerns for this community - lost friends years ago to the AIDS epidemic, know young people who identify with this community and have been affected by the recent hostile political climate. So this sculpture I hope embraces and celebrates, does not shame or demonize, the personal autonomy and freedom of expression of LGBTQ+ individuals.